Call 83590 43171
For Office Duplicate Ticket Help
Generate IRCTC Duplicate SMS E-Ticket
Using software like Aam Aadmi Tatkal you can regenerate IRCTC ETicket SMS and send it to any mobile number in India.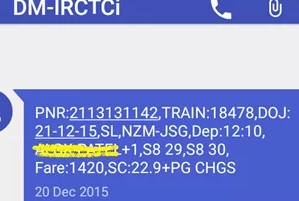 It costs on some 40 paisa.
However it requires valid license key which can be got only after payment of money.
In case you don't have the license key you can still make the SMS in this format yourself:
SMS ETicket Details
Remember the Sender of SMS will be something like DM-IRCTCi.
Waiting List(single person)
PNR:2438941212,TRAIN:12100,DOJ:12-08-2017,TIME:05:15,SL,NDLS TO FDB,SURESH KUMAR,RLWL 203,FARE:170,SC:20+PG CHGS.
Confirmed Ticket(multiple persons)
PNR:2438941816,TRAIN:12100,DOJ:12-08-2017,TIME:05:15,SL,NDLS TO FDB,SURESH KUMAR+2,S7 49 S7 52 S7 55,FARE:170,SC:20+PG CHGS.
Explanation
PNR

Contains your 10 digit PNR number

TRAIN

Contains your 5 digit train number

TIME

Train departure time in hh:mm 24 hour railway time formal

SL

Sleeper(2A for 2nd AC, 3A for 3rd AC, 2S for sitting, CC for Chair car

DOJ

Date of journey in dd-mm-yyy format

 

NDLS

Boarding station New Delhi

FDB

Destination station Faridabad

RAMESH KUMAR

Name of passenger

+2

Number of passengers except for RAMESH KUMAR

SC

Booking charges( Rs. 10 for sleeper IRCTC charges, PG CHGS means payment gateway
Note: Just type the SMS in this format and send it to anybody. TTE usually does not see the sender id of the SMS. He will simply verify the PNR and passenger details. If you travel with this SMS or tiket copy then TTE will charge penalty of only Rs. 50. But you will need to carry a valid ID card.